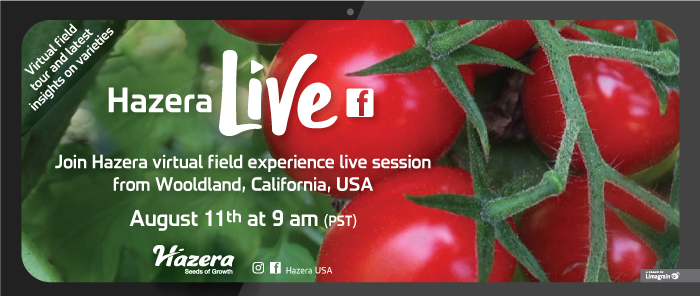 Hazera USA team is very excited to invite you to participate in our first Virtual field tour "live" from Woodland, California, and experience varieties from the comfort of your home, office, or home-office.
The virtual tour is an alternative to our yearly open field days, taking pace every August in Woodland.
In light of the evolving Corona-virus situation, our commitment is to ensure safety of our team and customers, therefore, we have decided to cancel our planned 2020 open days in the fields and replace it with online experience.
Save the date:
August 11th at 9am (PST)
How to join?
Follow our Hazera USA Facebook (LINK) page and be online connected on Tuesday, August 11th at 9am PST (available on any device).
Please find the field map ( https://hazera-events.us/fieldmap/) and variety descriptions (https://hazera-events.us/our-crops/)
During the tour you will be introduced to what is new and exciting in Hazera' product range, and will also have the opportunity to exchange ideas and comments with our experts from the field.
We thank you for your continued support, especially during these challenging times and look forward to welcoming you to our Woodland field soon!