We sat with Santiago, Product Manager Allium & Crucifers in the Americas, to discuss and learn more about his experience at our annual onion week tour in Brawley, which took place in early May. Brawley is located in the heart of the Imperial Valley and serves as one of the primary production areas for Short Day onions in the USA. This region plays a vital role in supplying the market with fresh onions, particularly between April and June.
Hailing from Argentina, Santiago Berger is responsible for overseeing Onion, Leek, Radish, and Cabbage across the American continent. Additionally, Santiago also holds global responsibility for Hazera's portfolio of Short Day Onions (Yellows and Whites), Long Day Spanish Onions, and Radishes for open field low density.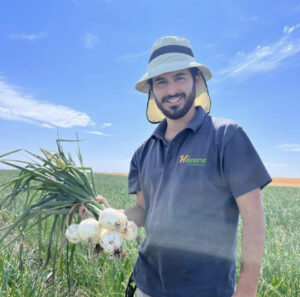 Santiago Berger
During this week, the Hazera team embarked on a tour that encompassed visits to customers and growers, evaluations of trials, and discussions on market trends and our overall portfolio. The tour brought together the breeding, marketing, sales, and development teams, emphasizing the importance of seamless communication and continuous collaboration to ensure high-quality work.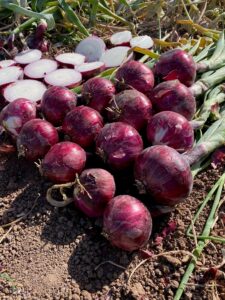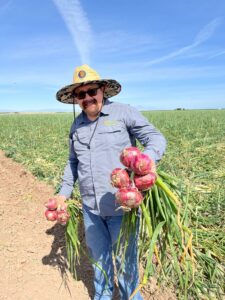 Together with our dealers and growers, we had the opportunity to witness the exceptional performance of three of our new varieties that have been garnering remarkable results in the region. Leading the pack is Toro Rosso (Red), closely followed by Joelino (Yellow) and Cisne Blanco (White), offering growers diverse options in terms of color.
Furthermore, our DV trials have been showcasing exciting varieties in yellow, red, and white, which will continue to bolster our portfolio, not only in the USA but also in markets worldwide. Moreover, our breeding trials provided a glimpse into the future of our company.
"The exchange between our team, dealers, and growers holds immense value for Hazera. It enables us to gain a deeper understanding of market needs and receive feedback on our work and the direction we are heading", says Berger.
We extend our heartfelt gratitude to everyone who joined us during this week, allowing us to showcase our ongoing efforts and what Hazera brings to the market. Thank you all for your support, and we look forward to continuing our journey together.